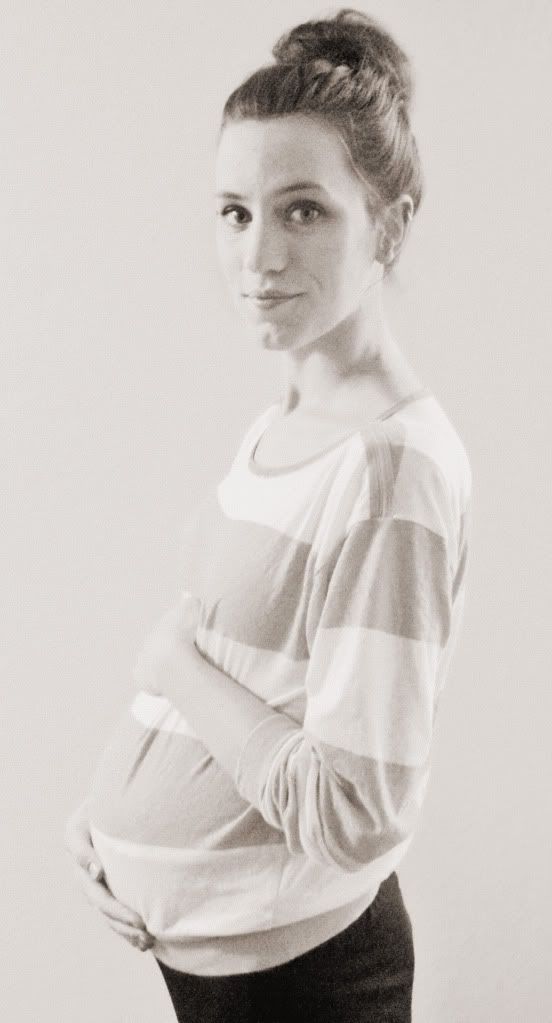 Today I am 25 weeks and one day.. or 6 months, 1 week, and 1 day. Crazy! I'm hoping these last 3-4 months fly by -- Normally they do since they are holiday months. But I should probably take back my statement because we definitely aren't ready for a little one to be living at our place. I haven't bought a single baby item. Is that bad? I didn't want to buy anything too early because then it would seem like her arrival would be FOREVER away. This way I can buy her things, and then poof she's here. I know, I know, I probably shouldn't wait too much longer. To be perfectly honest I'm just not sure of what to get. I wish I had my sisters and mom up here to help me! I know what I'm supposed to get in general... but when it comes down to specifics I'm kind of lost. Maybe when I go down to Utah in November I'll get lots of baby shopping done.
As far as her nursery is coming... I'm still going to go with the
closet
idea. But in order to make that happen we have to clear our our spare room, move OUR room into the spare room, take the closet doors off, buy curtains, buy a crib, etc... I want her little space to be so cute since she won't have a full on nursery. I've got some decorating ideas, but nothing concrete.
Pinterest
has definitely been helping me with ideas.
You know when you have SOOOOOooo much to do but you end up not doing it because you're so overwhelmed? That's how I feel. I know there's so much I need to do and buy, but I honestly don't even know where to start. I'm probably making it all so much harder than it needs to be. Help me mom!
As far as non-baby-related things go. The weather has really cooled down and it's very grey outside, and I really really like it! I think fall might be my new favorite season. The only downside is that it gets dark really fast. In a month or so, it'll be dark when we go to work, and dark when we go home from work - so depressing. Today after work, Mike and I are driving down to Portland to go to the BYU football game tomorrow! All of his cousins (just the guys and one girl) are going so it should be pretty fun. I've definitely missed being around BYU-ness so maybe this will recharge me for a little bit.
That's all I can think of for now. Any tips for purchasing baby stuff would be greatly appreciated!